Yesterday I was featured on NY1 during their tour of the Toy Fair here in New York this week. Of all the cool things to see at the show, I was excited to see our magic sets made the cut! (How'd we beat out that nasty edible Play-doh across the aisle?!?!) If you're up for a personal demo (or a taste of Play-doh) come stop by the Javits Center — it's open to the public (with registration) and is on until Thursday. If you've never been to the Toy Fair, it's a pretty interesting scene to take in.
Watch the segment (or read the transcription) at NY1.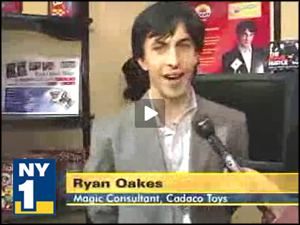 PS: For years, people have occasionally mis-spelled my name "Ochs"… the guy interviewed before me is an Ochs!